Helloooo Imp And Petal fans!!
How's everyone's summer going? And of course, to our handful of Aussie fans: we hope your winter is swell as well. :D Things are going great here at I&P headquarters, we've been exceptionally busy (especially with synthetic dread kits!) and trying to pack as much summer fun in to the mix as we possibly can! Hiking, Picnics, Camping and Swimming, all of course with our little niece in tow. We're having a blast!
Also, Imp And Petal is a proud new member of the Etsy Dark Side Team!
Check out some of the team's listings by searching for the tag "EtsyDarkTeam"!
Dates to be aware of:
Petal will be taking a short trip to SAN FRANSISCO to see Wicked from August 2-5! It will be her very first Broadway experience and she is suuuuper excited. The laptop will be dragged along as well so emails etc. will still be up and running, and she'll probably make the housekeepers hate her by getting synthetic hair all over the room as well (but no worries, a hefty tip will be left behind with the mess).
Both Imp AND Petal will be celebrating 2 years of marriage by taking a 10 day vacation from September 6th - September 16th. There's a really good chance Petal will buckle from lack of work and get crackin' again early, but as of right now we're going to put EVERYTHING on hold and just enjoy each other for a week! Custom Dread Kits needed before the 16th MUST BE PLACED IN THE NEXT TWO WEEKS. I'm booked up through the third week of August already, so if you need a set soon get on it!
Also, Etsy is celebrating it's Christmas In July event, and our darling little shop is participating by offering FREE SHIPPING WORLDWIDE on specific orders placed before July 25th. Just browse our listings to find out which items are eligible!
Then of course, there is some news on the even you've all been waiting for:
THE IMP AND PETAL DREAD GIVEAWAY!!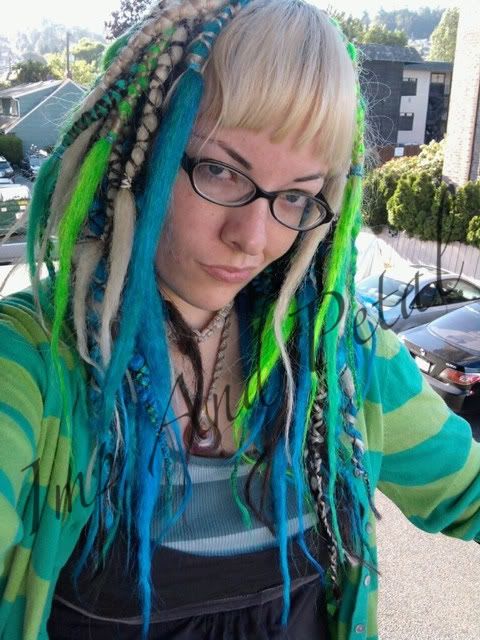 We're getting close! You guys have done an awesome job of promoting for us, but we're not there yet. We still need 75 blog followers OR 43
Facebook
fans to reach our goal, and we're counting on you to get us there.
As soon as our numbers reach our goal, details on how to officially enter will be released, but for now there are still a few ways to get your name in the pot; FOR FREE!
1. Fan us on Facebook.
2. Invite friends that you think might have an interest in crazy hair.
3. Send a list of who you've invited to ImpAndPetal@live.com
For each person you invite that likes us, we'll put ONE entry in the jar with YOUR name on it!
There will be other ways to enter once we reach our goals, so keep reading!
Happy July, everyone!